How much capital does an online cosmetics business require? Where is the source?
---
Online cosmetics business is considered a potential market when the beauty needs of women are increasing. So how much capital does an online cosmetics business need? Let's explore with Tino Group right below this article!
Online cosmetics business – A business form that is never "error"
Talking about beauty, skin is always the first thing we care about most in each person. At birth, everyone's skin is inherently beautiful, smooth and healthy. However, with the changes of time, the impact from the environment has gradually made your skin change more or less. The skin color darkens, forming dark spots that make you less confident when you step out on the street. In order to keep the youth, adorn the skin more radiant, cosmetics become more necessary than ever.
Currently, cosmetics are no longer a beauty method exclusively for women, but even men are gradually approaching more beauty products. As the quality of life improves, the need for beauty and self-care is even more important. That is the reason the cosmetic business field was formed and growing strongly to meet the shopping needs of users.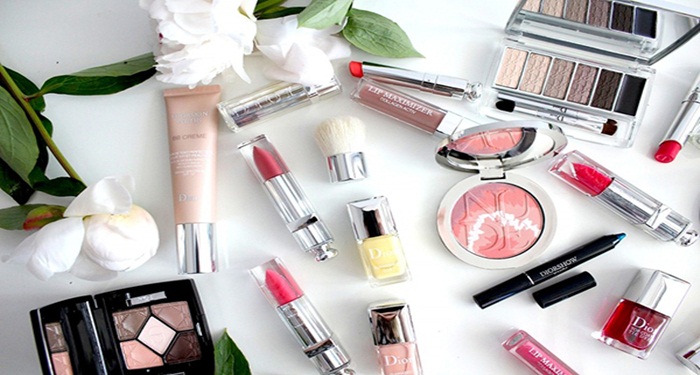 What to prepare when trading cosmetics?
When trading cosmetics online or opening a store, you must invest in a source of quality products, have a clear business license to create credibility for customers and ensure a sustainable business.
Making a cosmetic business is not difficult, but to be successful, you need an investment in both knowledge, experience and the source of the products to be sold. Customers always have many choices between the variety of cosmetic lines on the market. As a seller, you need to have knowledge of beauty, understand products to advise and support customers with each specific case. Only when you understand the problems customers are facing and wanting can you increase the number of sales orders and boost revenue.
How much capital does an online cosmetics business require?
Online cosmetic business is considered a "hot" profession that many young people choose to start a business. Earning income from this method is not only convenient, safe, requires little money but also easily accessible to consumers.
Online cosmetic business will be done mainly through social networking sites and websites. You do not have to search for space, decorate the store, hire resources, ... and many other large expenses are saved significantly when you do business online. These costs, if calculated in detail, will "eat" you a decent amount of money. Therefore, if you have limited financial resources and want to start a business, do not ignore this online cosmetic business form.
Capital to invest in online cosmetics cannot confirm a specific number, depending on the type of cosmetics you choose to do business with, you will need certain capital sources. For example, Chinese domestic cosmetics, Thai cosmetics are often much cheaper than Korean and French cosmetics. On the other hand, if you do business in handmade cosmetics , the source of capital will also be different. Usually, the amount you need to budget for the first batch of goods will range from 5 to 10 million. If you find a reputable supplier, import a lot, the price will be much better.

From where to choose the source of online cosmetics business?
Imported from reputable cosmetic shops
This is considered one of the methods of owning a popular source of cosmetic products, chosen by many people. When importing goods from cosmetic shops is not too complicated, convenient and extremely suitable for sellers who do not have time to search for sources.
In addition, buying from a reputable cosmetic shop will ensure good and safe cosmetic quality for your customers.
Limit
Importing goods from shops will go through many intermediary units before reaching you. Therefore, the price is relatively high, it will be difficult for you to compete on price compared to other stores in the market and the source of income will also be limited.

Register to be an agent for cosmetic companies
If you are new to business, do not have your own client file but have limited capital, registering as a collaborator/retail agent for cosmetic dealers is the safest option. How many products you sell, the profit will be calculated on the commission you have exchanged with the cosmetic brand before.
On the market today, there are many cosmetic brands, but not all of them guarantee the quality and are trusted by many customers. Therefore, you should carefully consider the market as well as the coverage of the product that is well received by many users. Because this will affect your profits in the future.
For example, MOI COSMETICS is one of the "popular" cosmetic brands in the Vietnamese market of singer Ho Ngoc Ha. The attraction of cosmetics from this brand with quality in terms of use, design and price has made many women hunt for agents. Therefore, when you choose to be an agent of MOI, you will be supported with advertising, exchange of goods as well as the built-in brand reputation, your closing rate will be higher.
Limit
Some cosmetic companies are quite strict about the quantity of goods in each import and give preference to agents who have stores over online businesses . Therefore, this way of choosing a source of goods is more suitable for a professional business model than a small one.
Import of portable cosmetics
Portable cosmetics are also very popular with women, so the business of this source of goods is very potential. When it comes to beauty, women are willing to invest a lot of money to own products from reputable brands, especially imported cosmetics. However, there are some cosmetics that are not sold in shops in Vietnam, to order from abroad in small quantities, the cost will be very high, so it is very optimal for you to choose to trade cosmetics in this way. effective. You can import hand-carried goods by the following methods:
Contact relatives and friends: If you have acquaintances living abroad, you can ask them to help you find products and send them to you.
Hiring flight attendants and pilots: With airline staff serving international flights, you will be able to bring about 20kg of luggage. Therefore, you can hire them to pick up the goods and bring them home.
Re-entry of portable cosmetic agents: With these portable cosmetic dealers, they often specialize in cosmetics of one country, so they will not be able to diversify the types of cosmetics for you to trade. Therefore, you should consider carefully before choosing this import method.

Go abroad directly to find cosmetics
If you have a passion for foreign cosmetics business but have good economic conditions, you can go to the place to import cosmetics. Most people who do this type of import will combine travel and import. Requires you to be knowledgeable in moving, foreign currency and costs will be extremely high.
Above is the information about online cosmetic business that Tino Group has compiled to send to you. Whether selling cosmetics online or opening a store, besides capital, you need to ensure a source of quality, reputable products and seriously pursue it to ensure long-term success. Good luck!
FAQs about online cosmetics business
Can I do business if I don't understand cosmetics?
You can still do business without knowing too much about cosmetics, however, to be successful, you need to have basic knowledge about each type and how to use cosmetics to be able to advise and support customers best. .
Online cosmetics business through which channels?
You can sell cosmetics online through websites, social networks (Facebook, Zalo, Instagram), ...
Who can sell cosmetics online?
Online cosmetics business is suitable for everyone. However, to have a successful business, you must prepare a lot of factors such as capital, source of goods, sales skills, knowledge of cosmetics, etc.
Can I do business if I don't understand cosmetics?
The choice of which country's cosmetics business depends on the financial as well as the customer file you are targeting. Currently, cosmetics from European countries are appreciated for their quality and effectiveness, but the price is a bit high. If you do not have a lot of capital, you can choose cosmetics from Korea, Inland Central, and Thailand, which are also quite popular today, but the price is softer. Depending on the ability and business purpose, each person will have the most specific choice.